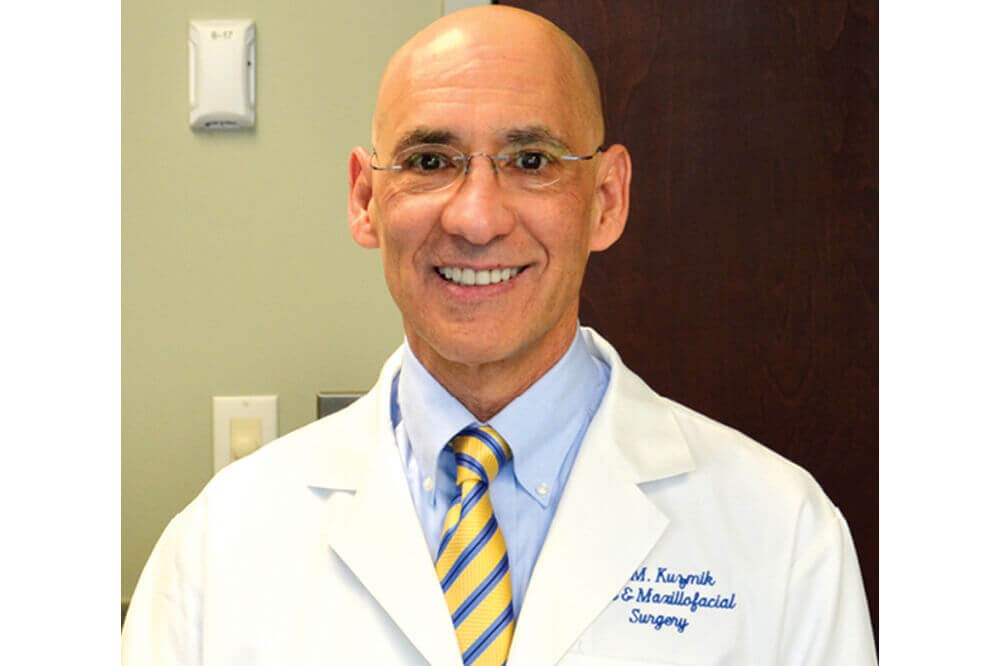 Dr. Michael D. Kuzmik is a highly respected oral and maxillofacial surgical specialist who has served the Washington metropolitan area for over 30 years. Committed to creating positive treatment experiences, he also specializes in pain control and anesthesia, which allows him to treat patients both in-office and in a hospital setting. He earned his doctor of dental surgery degree from Ohio State University College of Dentistry and went on to complete a one-year residency at the Prince George's Medical and Trauma Center in Cheverly, MD. He then received advanced specialty training in oral and maxillofacial surgery and anesthesia at the St. Francis Medical Center in Pittsburgh, PA and Jackson Memorial Hospital in Miami, FL.
Education & organizations
Dr. Kuzmik is board certified in oral and maxillofacial surgery and in dental anesthesia and maintains certification in Advanced Cardiac Life Support (ACLS). He actively participates in a number of professional associations and study clubs, including:
• Diplomate of the American Board of Oral and Maxillofacial Surgery
• American Association of Oral and Maxillofacial Surgery
• American Dental Society of Anesthesiology
• Implant Society of Northern Virginia
• Academy of Osseointegration
• American Dental Association
• Northern Virginia Dental Society
• Virginia Dental Association
Certification & ACCREDITATION
Proud to serve as a mentor and teacher, Dr. Kuzmik has held faculty positions at the Prince George's Medical and Trauma Center and the Georgetown University School of Dentistry. He is devoted to bringing the highest standard of care to his patients and remains current on the latest techniques by attending multiple continuing education courses each year. Many of these courses focus on implant dentistry, which is a special interest of his. Dr. Kuzmik is honored to participate in local organizations and charity events and volunteers his time to the Northern Virginia Dental Clinic. He was recognized by the Washingtonian magazine as one of the leading oral and maxillofacial surgeons in Virginia, D.C., and Maryland. Dr. Kuzmik resides in McLean with his three children.
Reviews
"Dr. Kuzmik is an extremely skilled professional,  and I am no stranger to the dental chair.    He is cautious and anticipates  potential scenarios before he begins his procedures.  Yesterday he called my dentist to coordinate my care before he would extract a tooth under a permanent bridge which was quite involved. It was painless and I was surprised when Dr. Kusmik  called me last evening to check on me.  Although he is not extremely chatty he is kind, all questions are answered,  and he works quickly but with the utmost of care.  If I need further work in the future I will be calling on Dr. Kusmik."
M.P.
Yelp
"Dr. Kuzmik removed a wisdom tooth with two long roots.  It was relatively painless and a much better experience than I was expecting!  He removed my daughter's 4 wisdom teeth last year and that went very well, too."
L.S.
Yelp
"Dr. Kuzmik truly kept me calm throughout my #15 molar extraction. He was almost doing a "play-by-play", and it was comforting.I highly recommend him should you need oral surgery!"
C.P.
Google
"The dental procedure done by Dr. Kuzmik was really great! It was fast and smooth and I felt no pain at all. The excellent dental service they provide is second to none. This clinic is highly recommended to all!"
D.M.
Google
"The facility is really clean and the staff was very accommodating. Dr. Kuzmik really did an impressive job on my tooth extraction and dentures. This clinic deserves a five star rating and a good review from their happy customers!"
W.H.
Google