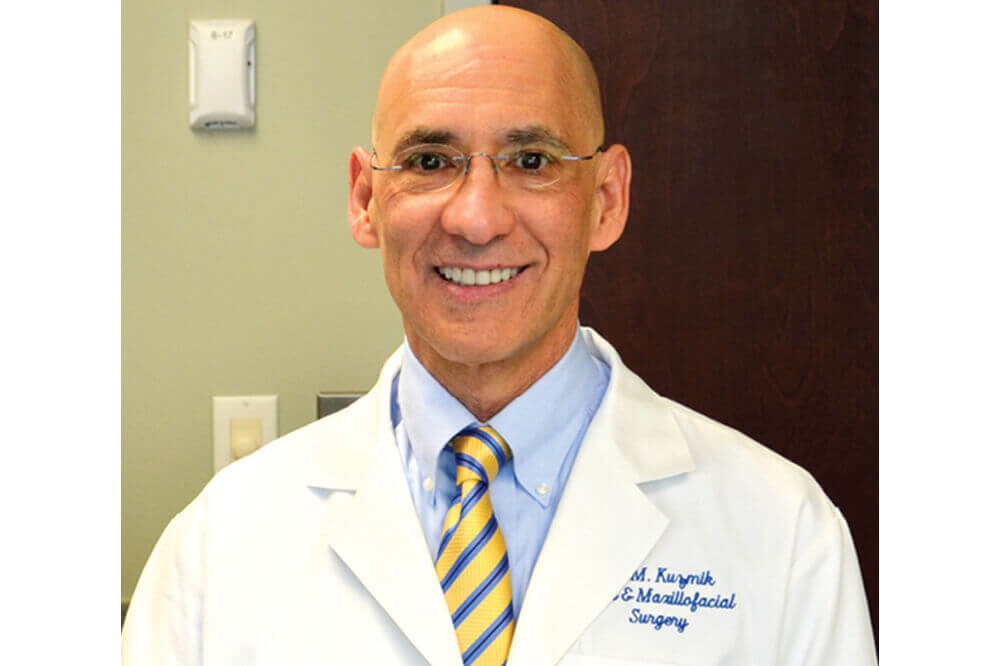 Dr. Michael D. Kuzmik is a highly respected oral and maxillofacial surgical specialist who has served the Washington metropolitan area for over 30 years. Committed to creating positive treatment experiences, he also specializes in pain control and anesthesia, which allows him to treat patients both in-office and in a hospital setting. He earned his doctor of dental surgery degree from Ohio State University College of Dentistry and went on to complete a one-year residency at the Prince George's Medical and Trauma Center in Cheverly, MD. He then received advanced specialty training in oral and maxillofacial surgery and anesthesia at the St. Francis Medical Center in Pittsburgh, PA and Jackson Memorial Hospital in Miami, FL.
Education & organizations
Dr. Kuzmik is board certified in oral and maxillofacial surgery and in dental anesthesia and maintains certification in Advanced Cardiac Life Support (ACLS). He actively participates in a number of professional associations and study clubs, including:
• Diplomate of the American Board of Oral and Maxillofacial Surgery
• American Association of Oral and Maxillofacial Surgery
• American Dental Society of Anesthesiology
• Implant Society of Northern Virginia
• Academy of Osseointegration
• American Dental Association
• Northern Virginia Dental Society
• Virginia Dental Association
Certification & ACCREDITATION
Proud to serve as a mentor and teacher, Dr. Kuzmik has held faculty positions at the Prince George's Medical and Trauma Center and the Georgetown University School of Dentistry. He is devoted to bringing the highest standard of care to his patients and remains current on the latest techniques by attending multiple continuing education courses each year. Many of these courses focus on implant dentistry, which is a special interest of his. Dr. Kuzmik is honored to participate in local organizations and charity events and volunteers his time to the Northern Virginia Dental Clinic. He was recognized by the Washingtonian magazine as one of the leading oral and maxillofacial surgeons in Virginia, D.C., and Maryland. Dr. Kuzmik resides in McLean with his three children.
Reviews
"Minimum discomfort and quickly completed procedure, lovely office staff and dental assistant. Dr Kuzmik was great. Very careful and thorough."
D.S.
Google
"Minimum discomfort and quickly completed procedure, lovely office staff and dental assistant. Dr Kuzmik was great. Very careful and thorough."
D.S.
Google
"The Doctor and staff were exceptional. They consistently explained the process and made sure I was comfortable. I even received a call back from Dr. Kuzmik after office hours, when I had a concern. His instructions were spot on. Truly exceptional."
M.G.
Google
"I needed to get my wisdom teeth removed as efficiently, and effectively as possible. This office did a wonderful job at not only removing them with the least amount of pain, but ensuring that I was comfortable, and had all possible forms and applications filled out ahead of time. A process that may normally take 2-3 months simply took a few weeks! Thank you so much Dr. Delgado, and Dr. Kuzmik!"
F.
Google
"Thousand stars for efficiency, excellence, and transparency! I believe they are the top best oral surgeons in the country. I think the doctors here are a gift to the humanity. This provider is here to serve the people and not running a business. Efficient service: Got appointment within a week for bottom wisdom teeth removal. They kept notes when I made the appt and didnt have to repeat when i was there for the appt. They ask for only the info they need, Minimal paperwork (only whats necessary). Nobody gave any bs sales speech. Excellent professionalism: x-ray and tooth extraction were done on the same day. The entire process took maybe 45mins but the actual surgery took less than 5mins. That's how expert Dr. Kuzmik is! Felt a little bit of pressure during the surgery and coudn't tell when the tooth was out. No pain during the procedures. The doctor and staff provided details before, during and after the surgery, and care instructions at home. The doctor even called to check on me at night how im doing and if i needed any assistance. Cost Transparency: They offer the best value and very upfront about out of pocket cost. No hidden cost nor crazy bills. Wish I found this provider when I had my upper wisdom teeth removed. They met all the check marks of being a great doctor/provider. Highly recommend them for any oral surgery needs. I hope the doctors share their incredible knowledge with new generation oral surgeons via apprenticeship. Wish Drs. Delgado & Kuzmik the best and their patients."
M.
Google